Manage Stations
Maintainable Test provides simple, web-based tools for managing your test infrastructure. You can add lines and stations on-demand without delays or complicated setup.
View Stations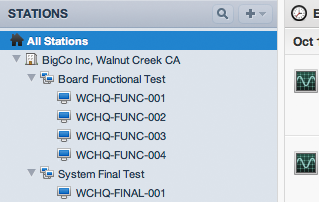 Maintainable Test not only collects data but also assists in the day-to-day management of test operations. Use it to quickly take the pulse of any of your deployments.
Whether you have one test station in a laboratory or hundreds of test stations deployed worldwide, Maintainable Test allows all of your stations to be presented on a single dashboard.
Stations can be organized into any arbitrary grouping to match your preferences. Clicking on a station or a group of stations from the dashboard allows you to see status, trends, and recent test data.
Monitor Trends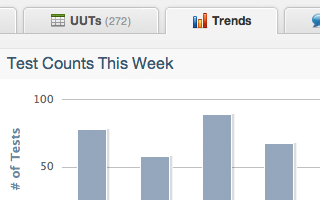 The Trends view is just one of many built-in views shown on your dashboard. Use it to quickly view test counts and test yield by station.
By having information like trends available at any time, Maintainable Test helps manufacturing engineers identify problems proactively, without the need to configure, generate, and analyze reports.
Our default displays let you see important information quickly with zero configuration. Maintainable Test isn't limited to these views. Many different ways of aggregating data and building reports are available.
Keep Notes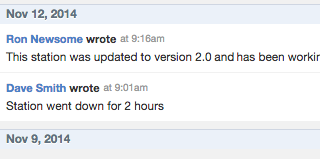 Notes are one of many innovative features we've built into Maintainable Test based on our years of experience working with test operations.
You can keep notes about any station and quickly recall them later. Use notes for tracking details like when a computer is upgraded or when a fixture is replaced.
Notes are stored safely in the system along with other data about the stations, so they can't be lost like log books and won't be forgotten if responsibility for the station changes to new engineers.